The Newest Member of our Team: Attorney Drew Ashby
The Newest Member of our Team: Attorney Drew Ashby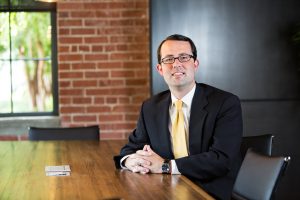 We are very proud to introduce the newest member of our firm, Drew Ashby. We hired Drew in April as an associate attorney. He has been a wonderful addition. Drew has litigated cases all over the Southeast including Florida, Louisiana, Tennessee, and South Carolina. He practices in all of the firm's practice areas, with an emphasis on substantial personal injury and wrongful death cases, and product liability cases involving automobile design and manufacturing defects. He has obtained substantial verdicts and settlements in cases involving product liability, trucking accidents, auto accidents, and complex multi-vehicle pileups. Drew has also represented numerous former players in the NFL concussion litigation.
Before joining The Cooper Firm, Drew spent seven years mostly defending litigation in a variety of areas including product liability (with significant exposure to manufacturers in Asia), trucking accidents, auto accidents, professional malpractice, insurance coverage, business, and contract litigation matters. In that capacity, Drew litigated cases with Fortune 500 companies and eight of the top 15 largest insurance companies in the United States.
In his career Drew has served as civil counsel to the Georgia Secretary of State, the Georgia Securities Commissioner, the Georgia Real Estate Commission, the Georgia Real Estate Appraiser's Board, a Special Assistant Attorney General, several large metro-Atlanta cities/counties, various receivers in RICO actions, and several District Attorneys throughout Georgia.
Drew has also worked with the American Center for Law and Justice to litigate First Amendment and other constitutional issues where he helped win a victory at the Supreme Court of the United States.
Drew graduated from Auburn University where he obtained a Bachelors of Science in Finance with a concentration in Economics. He received his law degree from Regent University School of Law where he served on the Trial Advocacy Board and worked as a legal intern with the Office of the General Counsel for the Department of Homeland Security.
Drew lives in Smyrna with his wife and two young boys where they are actively involved in Foundry Church, a local community-focused church in the Smyrna area. He and his wife are a part of a team that is helping to start the church and they are excited about its official launch in the coming months. We are very excited to have such a well-rounded and experienced attorney as a part of our team.