"Justice, Justice thou shalt pursue." Deut. 16:20
We are relentless in our pursuit of justice.
For more than 10 years, The Cooper Firm, has worked tirelessly to hold negligent parties and their insurers accountable for their actions. Investigating case to the fullest extent possible is our priority when it comes to our clients. It's what you deserve.
We are more than just a personal injury law firm.
When faced with the wrongful death of a loved one, or a catastrophic injury, our clients are looking for a law firm that will leave no stone unturned in the pursuit of justice on their behalf. We have a reputation for taking on and prevailing against the giants of the automobile industry, insurance companies, and major corporations.
We treat our clients like family.
Our success is built upon treating our clients like family. We feel your losses, and it is our goal to hold those that harmed you or your loved ones accountable. We commit to devoting the same high level of time, energy, and emotion to each and every case. It's why we accept only a small number of cases each year.
Our local law firm handles nationwide cases.
Although founded in Marietta, Georgia, Lance Cooper and The Cooper Firm have handled cases all over the United States. If you have been injured or been in an accident anywhere in the country, this Georgia law firm is ready to take your case and get you the results you deserve.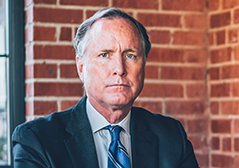 Lance A. Cooper, Founder
For more than 30 years, Lance Cooper has successfully represented plaintiffs in product liability, catastrophic injury and wrongful death cases.
View Full Profile
Partner with
The Cooper Firm