Recall Round-Up: March 8, 2019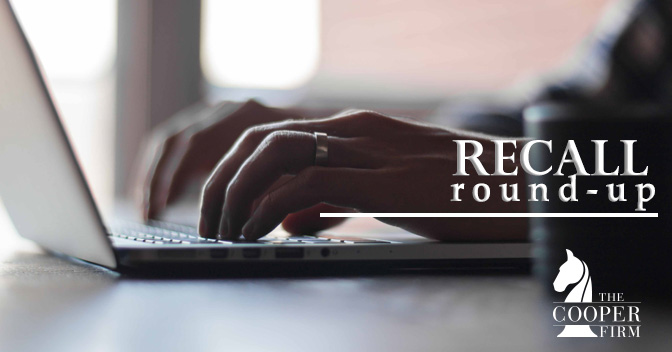 Recall Round-Up: March 8, 2019
This week in our recurring series "Recall Round-Up" we cover a major recall from Kia and Hyundai, a product recall from TJ Maxx and a special announcement from the Consumer and Product Safety Commission.
Kia and Hyundai announced a recall of over 500,000 vehicles recently due to a fire hazard. The first part of the recall is for 2012-2016 Kia Soul SUVs. These model year Kia Souls experience high exhaust gas temperatures can damage the catalytic converter causing erosion to connecting rods that may pierce the engine block and leak oil. NHTSA received reports of 3 fires across the United States. The second recall is for 2011-13 Hyundai Tuscon SUVs and 2011-12 Kia Sportage SUVs. These vehicles have an oil pan leak that can potentially cause a fire. Owners will be notified by US Mail for details on the repair, or they can visit NHTSA online.

TJ Maxx recalled over 5,000 of the Aroma Home USB Heated Hottie heating pads this month. According to the CPSC, the heating pads can overheat and pose a fire and burn hazard. These items are animal-themed sequined heating pads and were sold November 2018 thru January 2019 for $13 at their retail stores. Consumers should immediately stop using and return the items to the store for a full refund.
---
The CPSC just announced they have developed an app to make searching for recalled products easier for the consumer! If you hear about a product being recalled, you can use the app from your phone and quickly find out product details in addition to instructions on what to do now that the product is recalled. It will be a great tool to keep at your fingertips. Go to this link from your mobile device to download: https://www.cpsc.gov/data 
If you've been injured as a result of a recalled product, please contact us today. We also encourage anyone to visit the US Consumer Product Safety Commission and the National Highway Traffic Safety Administration websites to file formal complaints about potential safety hazards.
Partner With The Cooper Firm