Recall Round-Up: February 1, 2019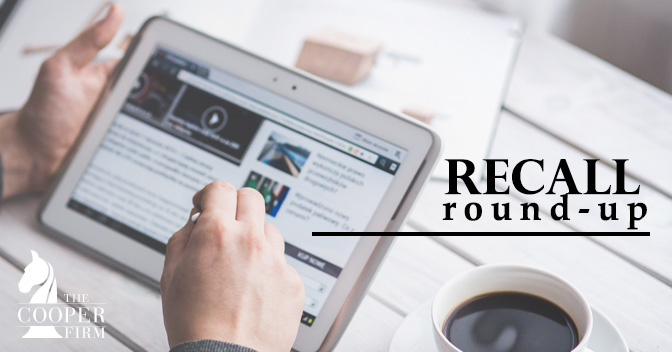 We are back! Despite a government shutdown, there are people still diligently working to make sure consumers are aware of potentially dangerous products or automobiles. We've gathered their announcements and included short summaries below in our recurring series "Recall Round-Up".
We start our 2019 posts covering an expanded Takata recall and cover several other recalls from auto manufacturers. We also found several food safety recalls that were announced recently, so please make sure you follow the links for more detailed information on all the safety issues mentioned.
Takata Airbag expanded for Toyota, Ford and Fiat Chrysler. These vehicles are all known to have passenger-side front airbags with faulty, and dangerous, Takata manufactured inflators.
Fiat Chrysler Recalls 180k Ram trucks. FCA received numerous reports of power steering failture in 2019 Ram 1500 pick-up trucks. Although no crashes or injuries were reported, it was enough to investigate which determined that battery fasteners were not properly secured during manufacturing. A loss of power steering can be of great concern while driving. FCA will notify affected owners in the next 60 days.
Hyundai and Kia announced a recall of 168,000 vehicles due to a fire risk. The auto-manufacturers found a fuel pipe was not properly installed during a previous recalls from 2015. Original reports of fires are said to have been dated as far back as 2010. The following cars are included in the recall: 2011-14 Kia Optima
2012-2014 Kia Sorrento
2011-13 Kia Sportage
2011-14 Hyundai Sonata
2013-14 Hyundai Santa Fe Sport
FDA announces fresh fruit recall at Walmart, Costco and Aldi. The recall includes peaches, nectarines, and plums which the FDA warns of possible listeria contamination. These fresh fruits were sold mainly on the East Coast. Peaches and nectarines sold from Aldi are in 2 pound bags and the Costco nectarines are in 4 pound bags. Both are sold under the brand Rio Duero. Other groceries stores that sell the items individually should contact a sticker with Chile listed as the country of origin.
All food items listed in the above recalls should not be consumed. Most stores will provide a refund of any recalled items with your receipt or return of the item.
If your vehicle is included in the above recall, you should receive notice from the manufacturer via USPS. These notices are important and provide details on when you may bring your car to an approved dealer for a repair or replacement at no cost.
We also encourage anyone to visit the US Consumer Product Safety Commission and the National Highway Traffic Safety Administration websites to file formal complaints about potential safety hazards.
If you've been injured as a result of a recalled product, please CONTACT US today.
Partner With The Cooper Firm