Remedy for Defective Airbags May Result in More Injuries and Death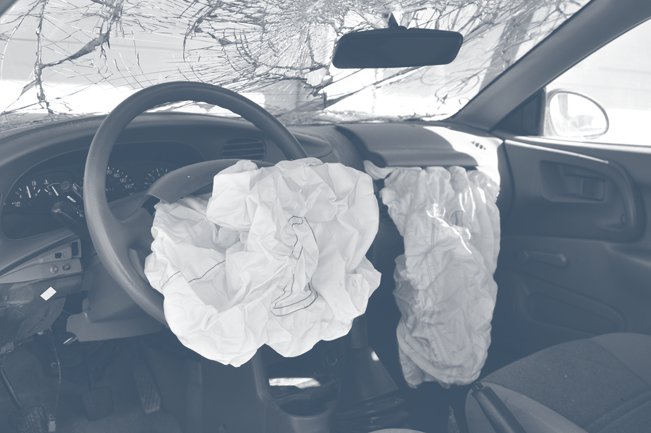 Remedy for Defective Airbags May Result in More Injuries and Death
It is already pretty alarming that over eight million vehicles from 10 different automakers have been recalled for defective airbags that could explode sending out shrapnel and injure passengers. To make matters worse, Takata, the airbag manufacturer, does not have enough replacement airbags for all the recalled vehicles. But the solution to this problem could be just as worrying.
Toyota is planning on disabling the defective airbags once they run out of replacements. Toyota has recalled 800,000 cars so far. A Toyota spokeswoman said that this decision is "an indication of how seriously we take the problem." The company plans on putting a sticker on the passenger side dashboard of the car warning individuals not to ride in the front seat after the airbags are disabled. Toyota says the solution is only temporary and the airbags will be replaced once more are supplied from Takata.
Safety experts are not completely on board with this solution. Considering that only a small percentage of defective airbags could explode in a crash, disabling airbags could result in killing more people. In the case of an accident, an airbag provides protection beyond that of a seat belt. Disabling the airbags could be more deadly than the initial problem. Despite the safety expert's hesitation, the National Highway Traffic Safety Administration gave Toyota permission to disable the airbags. Normally, it would be illegal for an automaker to do so.
Even though Takata does not have enough replacement airbags, Toyota and the NHTSA are still urging consumers to take their vehicles in to be serviced regardless. On average, about a third of recalled cars are never repaired according to industry estimates.
GM has recalled 80,000 vehicles for airbag problems, but will not be disabling airbags when Takata runs out. The company plans on giving out loaner vehicles if they run out of replacement parts. Other automakers have failed to comment on if they plan on disabling the airbags. NHTSA is urging Takata to manufacture more replacement airbags quickly, but the manufacturer has not returned any request for comments on when they will be able to produce enough airbags for the 8 million recalled vehicles.
Source: CNN
Partner With The Cooper Firm