Takata airbag recall: Is your vehicle on the list?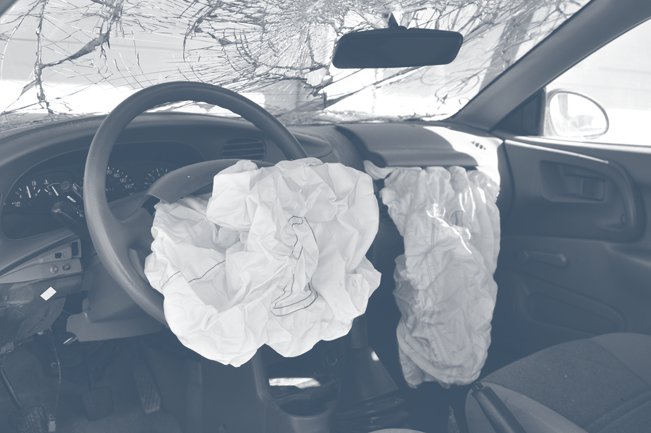 Takata Airbag Recall Lawyer
The National Highway Traffic Safety Administration is now advising nearly 8 million drivers to take "immediate action" against defective airbags that could explode and harm occupants. In a post on its website, NHTSA shared a message urging consumers to have their airbags replaced immediately if their vehicle was on the recalled list. Over 7.8 million vehicles have been recalled due to the exploding Takata airbags. The vehicles affected include models from Toyota, Honda, Mazda, BMW, Nissan and General Motors. Vehicles that are in warm climates such as Florida, Hawaii, Puerto Rico, Guam, Saipan, American Samoa and the US Virgin Island are at a higher risk and should take action quickly, NHTSA shared.
Sean Kane, safety research expert shared with ABC news that the internal inflator is the issue with the Takata airbags. "[It's] the canister which sits in the center of the airbag, it's like a metal can. When ignited, it's overpressurizing the canister and the canister is exploding, much like an IED, and sending shrapnel into the occupants of the vehicle," Kane shared with ABC. Kane also reported that the explosions have cause severe lacerations and a reported 4 deaths.
NHTSA opened an investigation of Takata in June of 2014, but it has taken quite a while for NHTSA to take action. The first reported problem was in 2001 and again in 2008, but neither the manufacturers nor the government did anything to make changes or protect consumer's safety.
If you or someone you know has been injured as a result of a defective airbag or product, contact our office today for a free consultation. Our firm has worked on several successful defective airbag and product cases. We have the knowledge and experience to aggressively handle your case.
Also, if you own one of the vehicles listed below, contact a dealership near you to schedule a time for your airbags to be replaced.
BMW: 627,615 total number of potentially affected vehicles
2000 – 2005 3 Series Sedan
2000 – 2006 3 Series Coupe
2000 – 2005 3 Series Sports Wagon
2000 – 2006 3 Series Convertible
2001 – 2006 M3 Coupe
2001 – 2006 M3 Convertible
Chrysler: 371,309 total number of potentially affected vehicles
2003 – 2008 Dodge Ram 1500
2005 – 2008 Dodge Ram 2500
2006 – 2008 Dodge Ram 3500
2006 – 2008 Dodge Ram 4500
2008 – Dodge Ram 5500
2005 – 2008 Dodge Durango
2005 – 2008 Dodge Dakota
2005 – 2008 Chrysler 300
2007 – 2008 Chrysler Aspen
Ford: 58,669 total number of potentially affected vehicles
2004 – Ranger
2005 – 2006 GT
2005 – 2007 Mustang
General Motors: undetermined total number of potentially affected vehicles
2003 – 2005 Pontiac Vibe
2005 – Saab 9-2X
Honda: 5,051,364 total number of potentially affected vehicles
2001 – 2007 Honda Accord)
2001 – 2002 Honda Accord
2001 – 2005 Honda Civic
2002 – 2006 Honda CR-V
2003 – 2011 Honda Element
2002 – 2004 Honda Odyssey
2003 – 2007 Honda Pilot
2006 – Honda Ridgeline
2003 – 2006 Acura MDX
2002 – 2003 Acura TL/CL
2005 – Acura RL
Nissan: 694,626 total number of potentially affected vehicles
2001 – 2003 Nissan Maxima
2001 – 2003 Nissan Pathfinder
2002 – 2003 Nissan Sentra
2001 – 2003 Infiniti I30/I35
2002 – 2003 Infiniti QX4
2003 – Infiniti FX
Mazda: 64,872 total number of potentially affected vehicles
2003 – 2007 Mazda6
2006 – 2007 MazdaSpeed6
2004 – 2008 Mazda RX-8
2004 – 2005 MPV
2004 – B-Series Truck
Mitsubishi: 11,985 total number of potentially affected vehicles
2004 – 2005 Lancer
2006 – 2007 Raider
Nissan: 694,626 total number of potentially affected vehicles
2001 – 2003 Nissan Maxima
2001 – 2004 Nissan Pathfinder
2002 – 2004 Nissan Sentra
2001 – 2004 Infiniti I30/I35
2002 – 2003 Infiniti QX4
2003 – 2005 Infiniti FX35/FX45
Subaru: 17,516 total number of potentially affected vehicles
2003 – 2005 Baja
2003 – 2005 Legacy
2003 – 2005 Outback
2004 – 2005 Impreza
Toyota: 877,000 total number of potentially affected vehicles
2002 – 2005 Lexus SC
2002 – 2005 Toyota Corolla
2003 – 2005 Toyota Corolla Matrix
2002 – 2005 Toyota Sequoia
2003 – 2005 Toyota Tundra
Source: ABC News, NHTSA
Partner With The Cooper Firm