Coronavirus Update – We are still here for you
Coronavirus Update – We are still here for you
To all of our clients, friends and TCF Family: We are still here for you.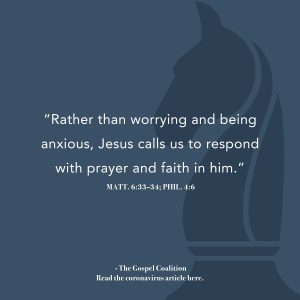 We want to first let you know that everyone's health is our number one priority. We are praying for you and praying for our nation as we manage this health crisis within our families, our circle of friends, and our livelihoods. With the recent events surrounding COVID-19 (coronavirus), we want to give you an update on how we are handling this situation at The Cooper Firm and what you can expect from us over the coming weeks.
Rather than worrying and being anxious, Jesus calls us to respond with prayer and faith in him. (Matt. 6:33-34; Phil. 4:6)

We want to reassure you that we are still open for business and are monitoring the news and checking with our team on their needs every day. If they need to work from home because of their family or their health, they do. If they are able to come into the office, they do.
Each member of The Cooper Firm team is dedicated to continuously providing the time and attention each of our cases need, whether that is in the office or remotely. So, know that we are still pursuing justice for you! No matter the circumstances, the work will not stop.
Thank you for your confidence, your business, and your loyalty. We will not let you down!
At this time, we are still reachable by phone at 770-427-5588 between the hours of 8:30 a.m. and 5:00 p.m or by email. We will respond as quickly as possible.
At TCF, we are committed to building the community around us. We know we can get through this together. Continue to support and love one another.
"Remind yourself continually; it takes the same amount of enery to worry as to pray. One leads to peace, the other to panic. Choose wisely." (The Gospel Coalition)
The Cooper Firm Team
Read more here: https://www.thegospelcoalition.org/article/christians-anxious-coronavirus/
Partner With The Cooper Firm