Recall Round-Up: March 20, 2020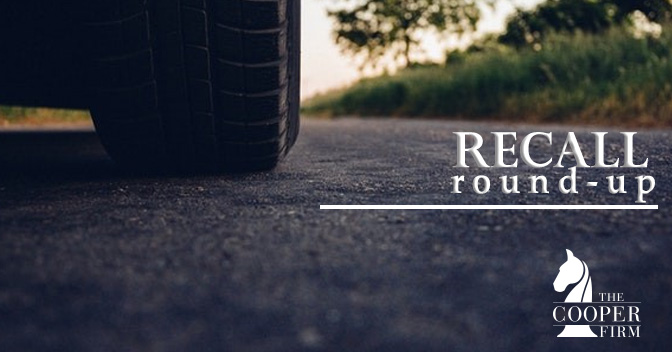 Recall Round-Up: March 20, 2020
This week's recall round-up is all about automobiles. We've got 3 recalls from 3 different manufacturers totaling nearly 175,000 defective vehicles. Make sure you follow our series to stay up to date on all the latest recall information.
Jeep recalled more than 33,000 2020 Wranglers and Gladiators due to a faulty clutch plate. The clutch plate may overheat and break, which not only increases the risk of fire but also can damage parts of the vehicle causing road debris. This applies to model year 2018-2020 for Jeep Wranglers and 2020 Jeep Gladiators with a manual transmission. Jeep will notify owners at the end of April about the plan for fixing the defective part.

Volvo announced a recall of over 150,000 vehicles in their entire fleet. According to the manufacturer, the automated emergency braking is defective and could lead to a crash. The AEB is designed to detect pedestrians that cross in the path of the vehicle and automatically brake. Without this detection, a crash may result that could have been prevented. All vehicles manufactured between 2018 and 2020 are affected. Volvo owners should plan to hear from the manufacturer about the software fix in May, but are encouraged to call Volvo customer service at 800-458-1552 and reference recall R29998 should they have any questions.

GM is recalling approximately 20,000 pick-up trucks due to faulty caliper bolts on the front and rear brakes. The manufacturer says they might not have been heat treated before installation and could fail under a heavy load. If the bolts detach, they could interfere with the wheel rotation and cause a crash. The Chevy Silverado 1500 and GMC Sierra 1500 are the only trucks named in the recall at this time. Owners should expect to hear from GM mid-April about the complimentary brake caliper replacement process.
If you've been injured as a result of a recalled product, please contact us today. We also encourage anyone to visit the US Consumer Product Safety Commission and the National Highway Traffic Safety Administration websites to file formal complaints about potential safety hazards.
Partner With The Cooper Firm