Recall Round-Up: October 19, 2018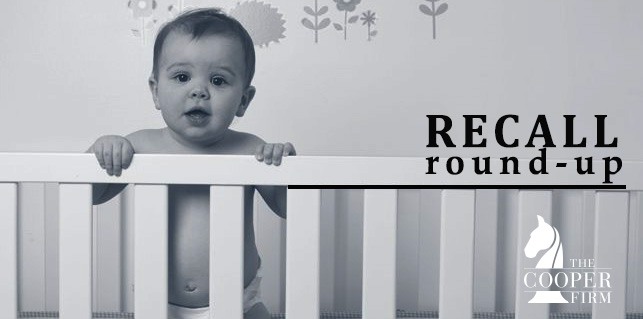 Recall Round-Up: October 19, 2018
We scour the internet to bring you the latest information on product and automotive recalls in this recurring series: Recall Round-Up.
This week we focus on several safety recalls and notices affecting products designed for children. Make note of these items and check your homes for these safety concerns!
Gold Inc will recall approximately 22,000 infant carriers due to a strap defect. The buckles on the carrier may break which causes a possible fall risk for a child in the carrier. The Eddie Bauer branded carriers were sold exclusively at Target December 2017 through August 2018 for $70. The manufacturer received 8 reports of falling incidents, but no injuries. Gold Inc encourages consumers to immediately stop using the carrier and contact their customer service line at 866-600-7205 to verify your item is included in the recall. Once verified, Gold Inc will provide further instructions.

Adidas announced a recall this week of their children's InfiniteX 3-stripe swimwear. According to Adidas, the stripes can come off the swimsuit in the water and pose an safety hazard. There's a possibility of the stripes becoming partially removed and getting entangled with objects in the pool and increasing the risk of injury. The bathing suits were sold as part of the 2017-2018 collection for both children and adults. Adidas encourages consumers to stop wearing the swimsuit and return the item to an Adidas store or authorized Adidas dealer. For a complete list of product numbers affected, visit Adidas recall website here.
After an extensive review of many popular toddler booster seats, Consumer Reports showed real safety concern over 4 models. Manufacturers Britax, Cosco, and Harmony all had toddler booster seats with less an satisfactory results in crash simulations that tested the structure when a dummy within the height and weight limits was placed in the seat. In these tests, damages to the harness or the actual structure were noted that increase a risk of the child coming into contact with front seats or being ejected. All post serious injury risks or even death in a crash. To read a summary of the report, visit the Consumer Reports site here.
If you've been injured as a result of a recalled product, please contact us today. We also encourage anyone to visit the US Consumer Product Safety Commission and the National Highway Traffic Safety Administration websites to file formal complaints about potential safety hazards.
Partner With The Cooper Firm