Recall Round-Up: April 12, 2019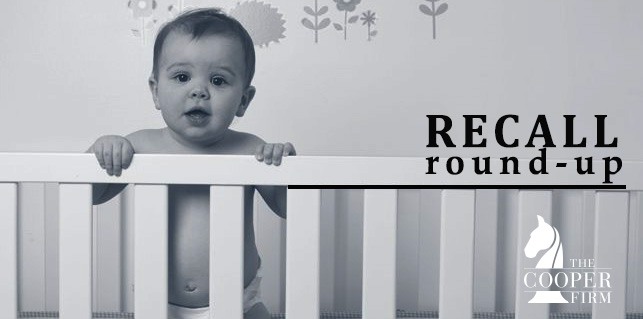 Recall Round-Up: April 12, 2019
This week in our recurring series "Recall Round-Up" we cover two vehicle safety recalls, a food product recall and one concerning baby product that has been the cause of several deaths but has yet to be recalled.
This week Acura announced a recall of over 300,000 2014-19 MDX SUVs and 2017-19 MDX Sport Hybrid SUVs. According to the manufacturer, moisture may collect in the tailgate lid lights which can reduce visibility and increase the risk of a crash. Acura will begin notifying affected owners April 29th. If your vehicle is included in the recall, authorized dealers will install updated gaskets and wiring or simply replace the entire light at no cost to the consumer.

Ford recently recalled over 130,000 2015-19 F-150 trucks to repair an issue that came about during a recall last year. In 2018, Ford recalled 874,000 trucks for a fire risk associated with the engine block heaters. Ford believes repairing those issues caused potentially new damage to the block heater connectors. Affected customers will be notified once the parts are available. Visit NHTSA online and enter your VIN to determine if your truck is included in this additional Ford recall.

Conagra brands issued a recall for certain cans of Hunts No Salt Added Tomato Paste due to a potential mold contamination. These items have a best buy date of October 16, 2020. Conagra brands recommends you throw the product away or return it to your original place of purchase for a refund. For more information, contact the Conagra Brands Consumer Care Team at 1-888-280-0301.
---
Consumer Reports has issued a warning to parents that infant sleepers, including the Ingenuity Moonlight Rocking Sleeper by Kids II and the Fisher Price Rock-n-Play sleeper should not be used. At least 10 deaths since 2015 have been associated with these infant sleepers. In most cases, the infant rolls over in the product and asphyxiates. Although many organizations are calling for a recall of the products, the Consumer Product and Safety Commission has not issued one yet–only a warning. Their reports show the deaths existed outside of normal use without following the warnings labeled on the product. Once a child can roll over, around 3 months, parents should discontinue using the sleeper. Parents should also use the provided harnesses and restraints when in use. These warnings aren't enough for Consumer Reports and the American Academy of Pediatrics who have urged the CPSC to investigate further and establish this as a real safety hazard. The AAP believe no infant should use a reclined sleeper that requires restraints; infants should sleep flat on their backs on a firm surface. Read more  at Consumer Reports online.
If you've been injured as a result of a recalled product, please contact us today. We also encourage anyone to visit the US Consumer Product Safety Commission and the National Highway Traffic Safety Administration websites to file formal complaints about potential safety hazards.
Partner With The Cooper Firm