Recall Round-Up: June 29, 2021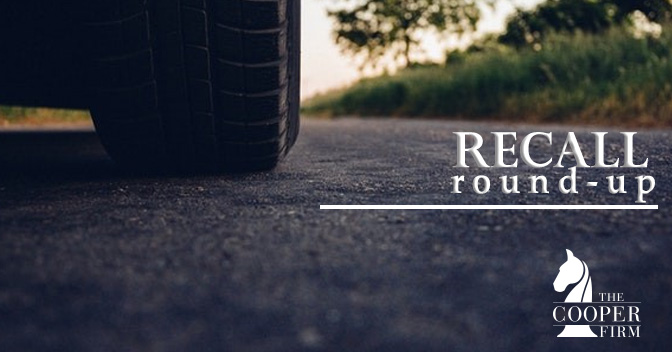 Recall Round-Up: June 29, 2021
This edition of Recall Round-Up features recalls from Nissan, General Motors, Gramr Inc., and Plant Guru. Be sure to regularly check our blog for more recall information from around the web.
Nissan Motor Corporation                                                                                                                                                                                                                                                                     Nissan has issued a recall involving 138,736 units of its Sentra compact sedan. The recall is a result of potentially bent tie rods in Sentra models produced from November 25, 2019 to March 24, 2021. Bent tie rods can affect steering feel of a car, cause excessive vibrations and cause the car to pull towards one direction. Bent tie rods are also much more susceptible to breaking, which would result in total steering loss. Owners seeking more information can visit Nissan's recall website or call their customer service line at 1-800-867-7669.
General Motors Company                                                                                                                                                                                                                                                  General Motors has issued a recall on a wide range of SUVs within its umbrella of subsidiaries. The recall affects 26,847 Cadillac Escalade (& ESV), Chevrolet Suburban/Tahoe, and GMC Yukon (& XL) models from the 2021 range. These vehicles may have a software issue that causes power steering to suddenly stop working, causing the driver to have to exert extreme force when attempting to change the vehicles direction. This shutdown can occur either during startup of the vehicle or when the vehicle is already in motion, posing a serious crash threat. Because this is a software problem, owners can accept an update directly from the manufacturer, or take the vehicle into a dealer to have it fixed. To receive more information owners can contact Chevrolet at 1-800-222-1020, Cadillac at 1-800-458-8006, or GMC at 1-800-462-8782.
Gramr. Inc (Causebox)                                                                                                                                                                                                                                                             Gramr. Inc has issued a recall on its brushed gold tea kettles. About 92,135 in the U.S. (in addition 12,865 units in Canada) due to the potential for the kettle to expel hot water or excessive steam, posing a burn hazard. The CSPC states that Gramr has received 122 reports of the kettle expelling hot water or steam, with 18 reports of burn injuries. Owners can contact Gramr at 866-512-2152 from 9am to 5pm Monday through Friday or online at www.causebox.com.
The Plant Guru                                                                                                                                                                                                                                                                              Plant Guru has issued a recall for 25,000 essential oils sold on Amazon. The CSPC cites a failure to meet child-resistant packaging for Plant Guru's Wintergreen, Birch, Headache Relief Blend (including roll-on version) and Deep Muscle Essential Oils. These oils fail to meet the Poison Prevention Packaging Act child resistant standards. The ingredient methyl salicylate can pose a poisoning hazard if swallowed. These products were sold on Amazon from March 2018 to February 2021. Plant Guru is offering a full refund for affected customers that can contact the company at 877-788-0530, via e-mail at info@theplantguru.com, or online at www.theplantguru.com.
If you have been injured as a result of a recalled product, please contact us today. We also encourage anyone to visit the US Consumer Product Safety Commission and the National Highway Traffic Safety Administration websites to file formal complaints about potential safety hazards.
Partner With The Cooper Firm