Recall Round-Up: May 10, 2019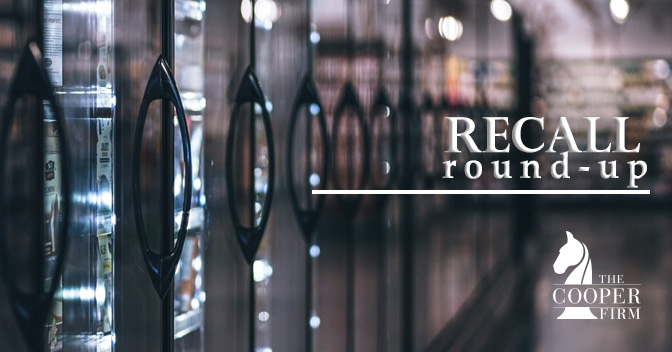 Recall Round-Up: May 10, 2019
This week we cover several product recalls from Igloo and Starbucks, a food safety recall from Tyson and an important safety announcement from IKEA in our recurring series: Recall Round-Up.
Just in time for summer! Igloo announced a recall of nearly 60,000 marine coolers this week varying in sizes from 54 to 150 quarts. The latch on the outside locks automatically and could pose a threat of entrapment or suffocation if a child is inside. We know children like to play games, and a large cooler seems like a good hiding place. But when the latch on the outside locks automatically, the child inside could become trapped which is exactly what happened to a child in Florida. His parents freed him quickly, but that might not be the case for all children playing near one of these coolers. Igloo has agreed to replace the latch with one that does not lock. Contact Igloo at 866-509-3503 for more information on how to receive your replacement latch.

Starbucks is recalling 263,000 french presses this week due to a potential laceration risk. The plunger in $20 Bodum Recycled Coffee French Press runs the risk of breaking under the heat and pressure of the press which could break the glass and cut the skin of the user. These items were sold at Starbucks stores nationwide from November 2016 to January 2019. Starbucks received 9 reports of a broken plunger and encourage consumers to stop using the press and return it to Starbucks for a complete refund.

Tyson announced a recall of 12 million pounds of frozen, ready to eat chicken strips due to a potential metal contamination. This is an expansion on an initial recall of 69,000 pounds in March. The USDA received additional complaints of metal fragments in the chicken which led to the new recall. A total of 6 complaints have been filed including 3 complaints of injuries. These frozen chicken strips were sold under the Tyson, Best Choice and Publix labels among others. The complete list is available here. Please immediately discontinue use of the food item and throw away or return to the store for a refund.
---
IKEA recently issued a safety announcement regarding their SUNDVIK child changing tables. IKEA received numerous reports of children falling off the furniture. IKEA believe the safety lock for the changing table platform was not properly fitted during construction in the reported incidents. As a safety measure, IKEA will provide additional safety locking kits to ensure a more safe use of their product. Customers may call 888-888-4532 for more information on how to obtain a replacement kit. No receipt or proof of purchase is required.
IKEA came under fire several years ago for their children's bookcases that easily tipped over. The CPSC issued strong warnings to consumers about securing the furniture to the wall after several deaths were reported as a result of the hazardous furniture. Although this is a mere safety announcement in the US, it has been labelled a recall in other countries. Please do not hesitate to contact IKEA for the safety kit and report all injuries to the CPSC so they can continue to monitor this product.
If you've been injured as a result of a recalled product, please contact us today. We also encourage anyone to visit the US Consumer Product Safety Commission and the National Highway Traffic Safety Administration websites to file formal complaints about potential safety hazards.
Partner With The Cooper Firm