Recall Round-Up: May 17, 2019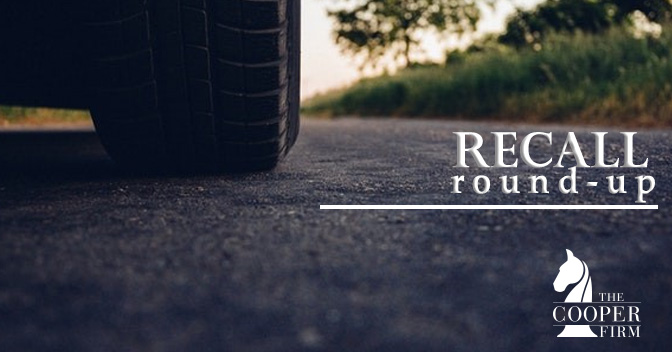 Recall Round-Up: May 17, 2019
This week's installment of Recall Round-Up covers a roll away recall for Ford vehicles, a product recall for ThermaCare pain relief wraps, and recall and serious tipping hazard for a chest of drawers.
Ford announced a recall of 270,000 vehicles this week due to a potential roll away hazard. The 2013-2016 Ford Fusion and 2019 Ford Rangers have a potential defect in the gear shifter that can cause a cable to detach, leading the driver to believe the vehicle is in park after they have removed their key from the ignition. Ford receive reports of 3 property damage incidents and one with injuries. Ford urges Fusion drivers to use the parking brake once in the parked position util a fix can be completed. Owners will be notified by USPS when the repair is ready. Ford Ranger drivers should bring their truck into an authorized dealer for inspection and repair.

Pfizer Corp issued another voluntary recall of its ThermaCare HeatWraps. Similar to the announcement in our December 7 Recall Round-Up,  these pain wraps can become hotter than is specified on the package and cause burns or blisters on the consumer. This recall applies to the Lower Back and Hip Therapy, 2 count carton box of ThermaCare HeatWraps. They have a UPC of 305733010037. Pfizer asks consumers to discontinue using the product and throw away the box. You can call their information hotline at 1-800-323-3383 anytime with additional questions.

Shore Shore Industries, Ltd. is recalling over 300,000 3-drawer chests due to a serious tipping hazard. You'll remember IKEA faced the same issue last year with their products tipping over and injuring children. South Shore Industries received a report of a fatality involving a young toddler. When these chests are not anchored to the wall, they can be unstable and pose a serious risk to children. The chests were sold at retailers like Walmart, Target and Amazon from October 2009 to July 2018, and were sold both individually and as part of a bedroom set. The manufacturer asks to consumers to immediately stop using any chest that is un-anchored and place in an area not accessible to children. Consumers may contact South Shore at 855-215-4932 for more details on how to process or return their recalled chest.
If you've been injured as a result of a recalled product, please contact us today. We also encourage anyone to visit the US Consumer Product Safety Commission and the National Highway Traffic Safety Administration websites to file formal complaints about potential safety hazards.
Partner With The Cooper Firm