17 People Dead after Popular Duck Tour Boat Capsizes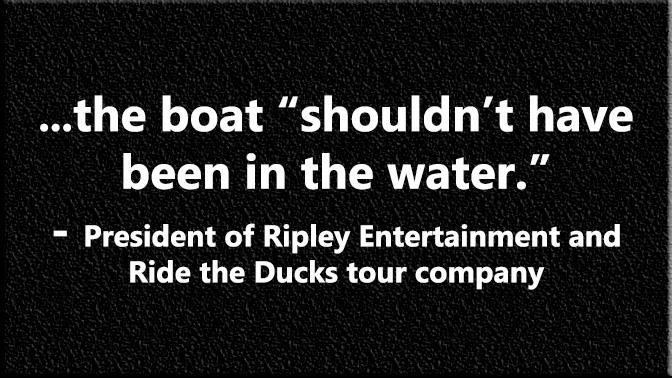 17 People Dead after Popular Duck Tour Boat Capsizes
Tragedy struck on a lake in Missouri Thursday July 19th. A popular duck boat attraction 'Ride the Ducks' was conducting a tour for 31 passengers when a rapidly developing storm capsized the boat killing 17 people, one passenger was only 1 year old.
Ripley Entertainment owns the 'Ride the Ducks' tour and spoke with several news outlets on Friday morning commenting that the boat should have 'never been in the water' if inclement weather was predicted. At the time, gusts were measured up to 65 mph. Within an hour of the incident, the storm had completely passed and the sun was shining. Locals say storms can produce in minutes in the area.  A warning was issued at 6:32 pm and 30 minutes later the first call to 911 came in about the capsized duck boat.
Duck boats are designed after, some even restored, military vehicles that can drive on land and also operate in water. They are popular tourist attractions in many cities but face conflicting regulations and varying safety requirements. Nearly 20 years ago, a similar tragedy occurred in Arkansas where 13 passengers were killed when a duck boat sank only minutes after entering the water. In both cases, life jackets were available on board but passengers were not required to wear them.
This tragedy leaves so many unanswered questions. Who made the call to enter the water after a storm warning was issued? Did the driver or the captain receive the warning? Should passengers be required to wear life jackets? What safety measures are in place should an emergency occur? Are there emergency exits? How is the staff trained to handle this type on emergency? Perhaps there is a litigation opportunity to increase the safety of these boats and reduce the risk of tragedy. A full investigation will be conducted by the National Transportation Safety Board to determine liability and hopefully many of those questions will be answered in time.
We offer our prayers to the surviving passengers and to the loved ones of those who tragically lost their lives. We pray for strength and peace during this time and let the healing power of God's love comfort you as you move forward in your life.
Source: CBS News
Partner With The Cooper Firm